Driftnerd og TurboTour arrangerte mopedturen "Sons of Veitastrondi" søndag 12. august. Den 49 kilometer lange turen gjekk frå Sogndal sentrum til den vetle bygda Veitastrond (rundt 120 innbyggjarar), som ligg idyllisk plassert ved ein arm av Jostedalsbreen. //
On Sunday 12th of August Driftnerd and TurboTour invited to the moped (max 50cc) tour "Sons of Veitastrondi". A 49 km long ride from Sogndal to the small town of Veitastrond (population 120). The town is beautifully placed by an arm of the Jostedal glacier.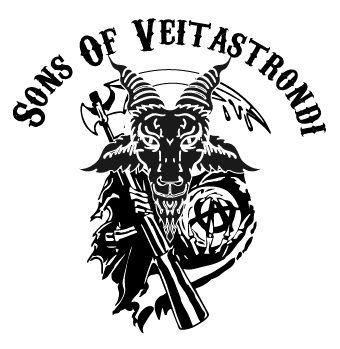 ---
Oppmøtet var ved Cirkle K klokka 12. Heile 9 mopedar møtte opp. Frå ein gammal god 1981 modell Suzuki FZ50, til ein 2015 modell Yamaha Aerox. I tillegg kom det 2 cross motorsyklar, 2 R MC'ar og ein ATV. Ikkje akkurat innanfor maks 50cc regelen, men gode å ha i tilfelle moped-havari. //
We met up at the Cirkle K gas station at noon. A total of 9 mopeds met up. From an good old 1981 Suzuki FZ50, to a 2015 Yamaha Aerox. In addition 2 cross and 2 R motorcycles came, along with an ATV. Not excactly 50cc, but a welcome addition in case of moped trouble.
---
Sjekkar ut doningane. //
Checking out the rides.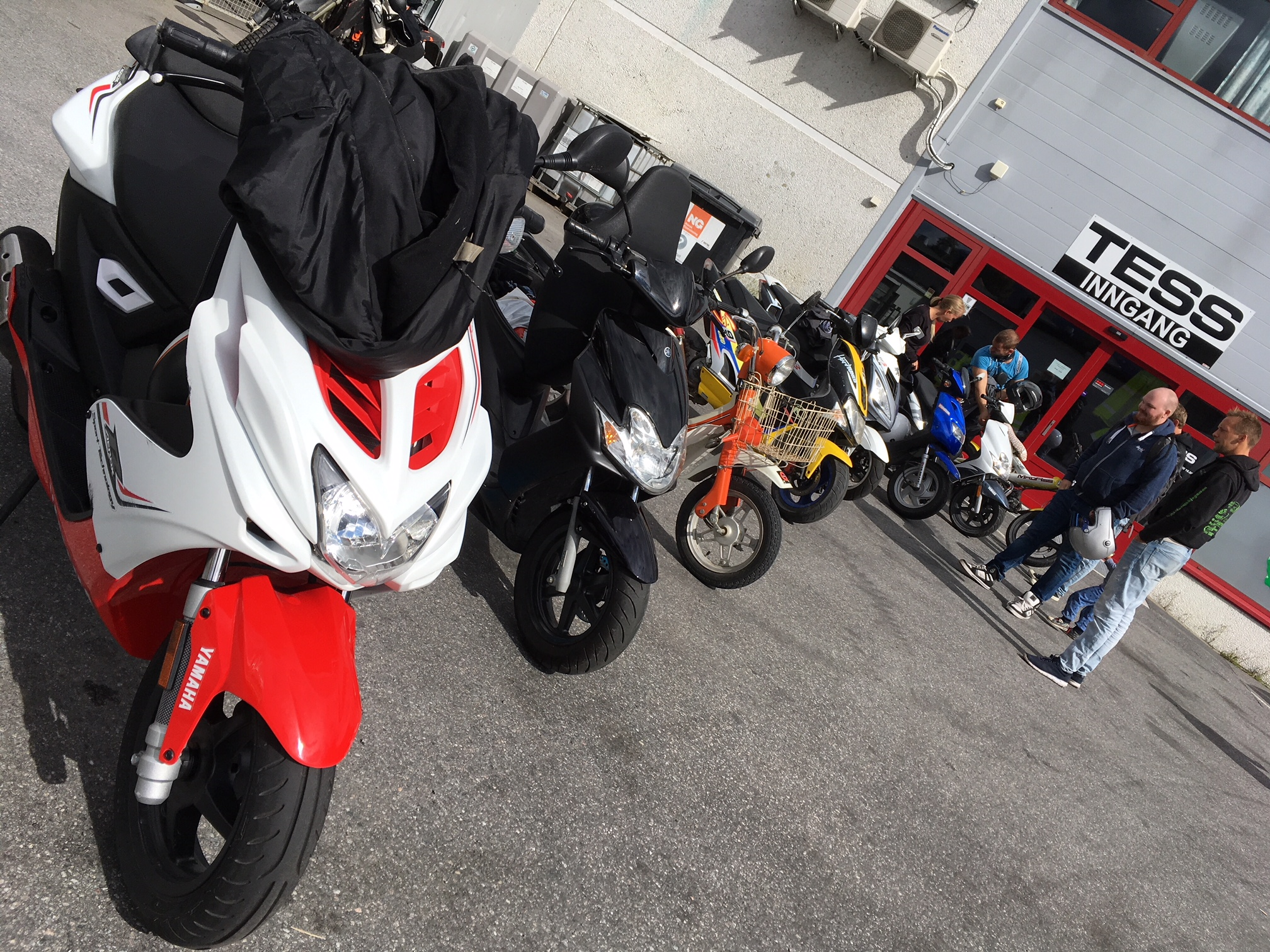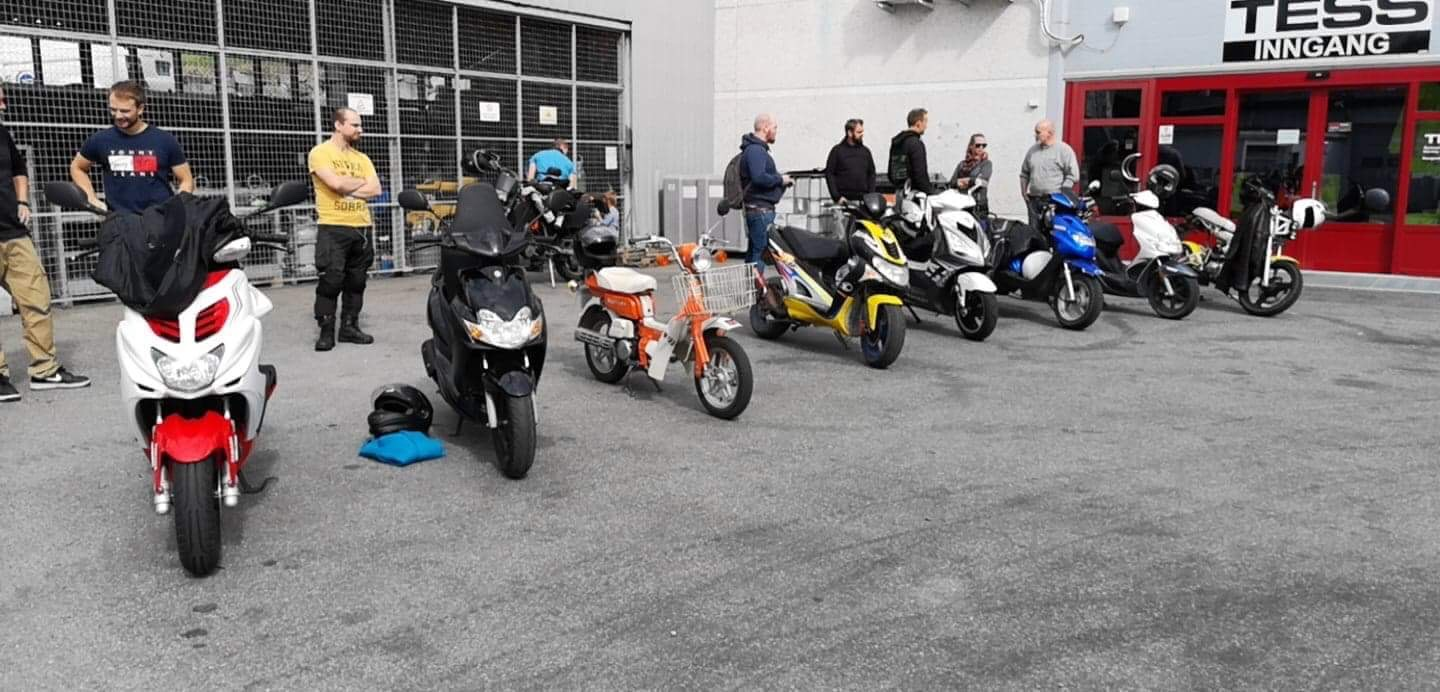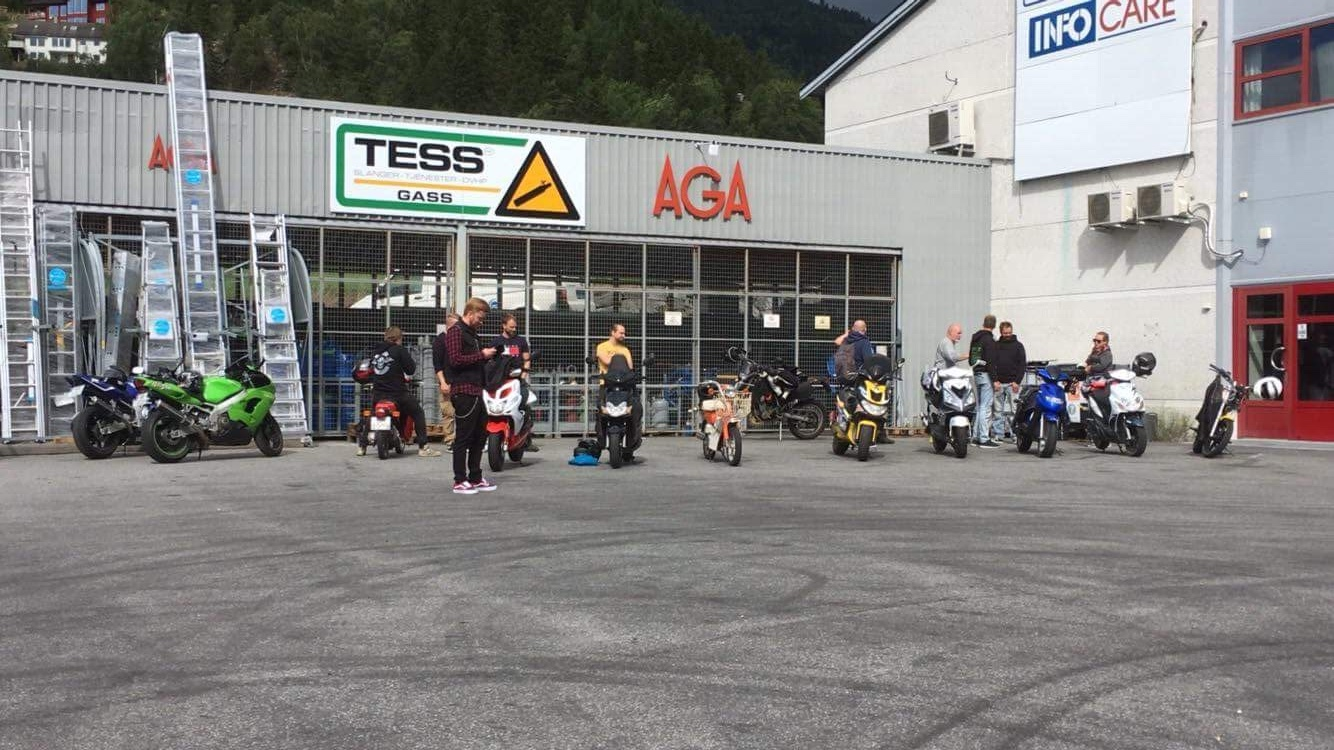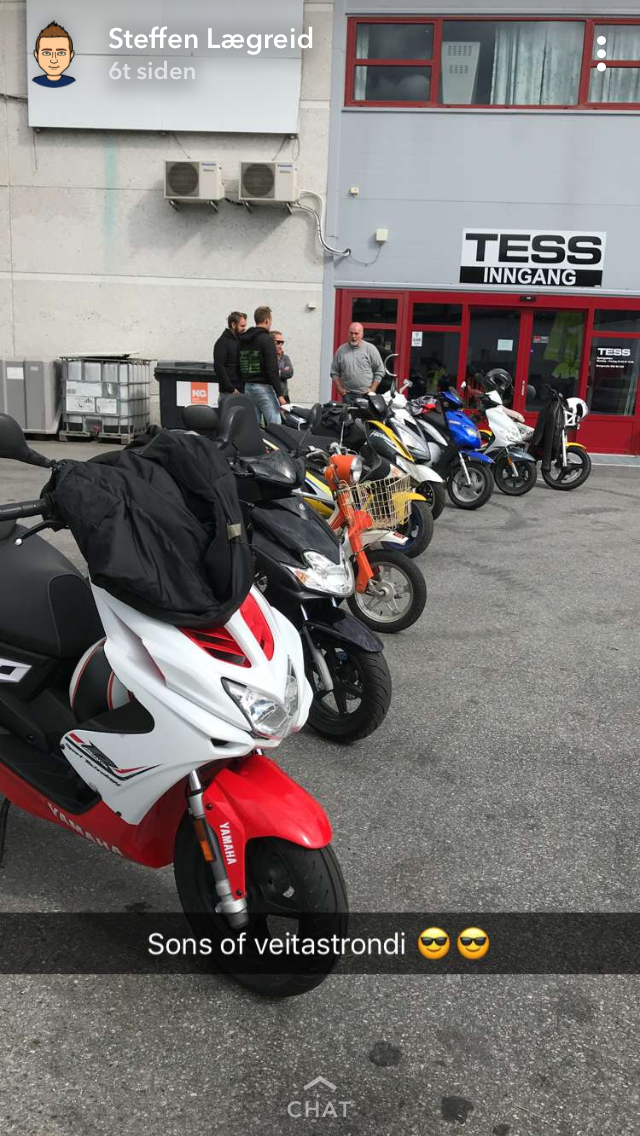 50CC?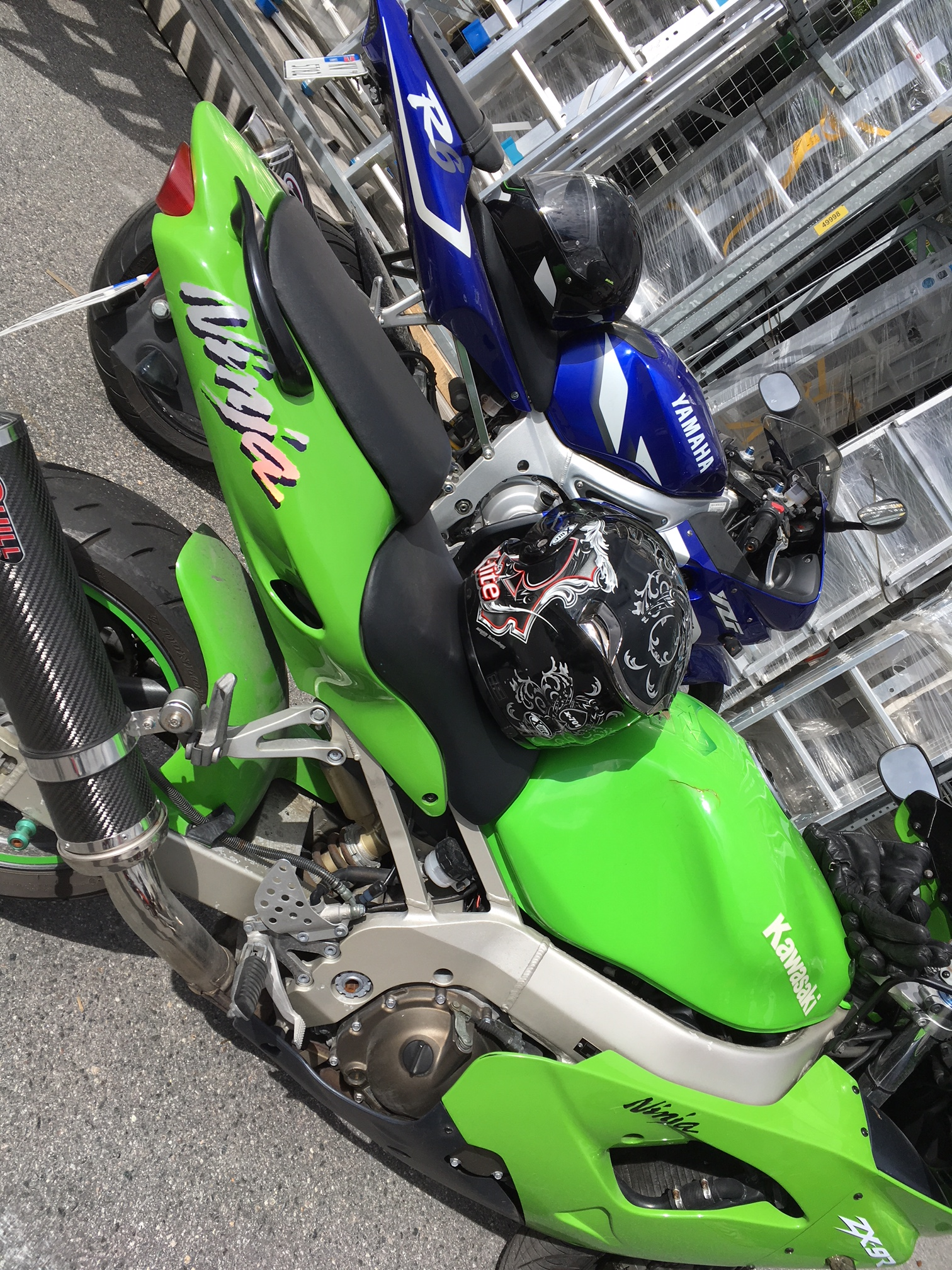 Brede's 1984 Honda Scoopy.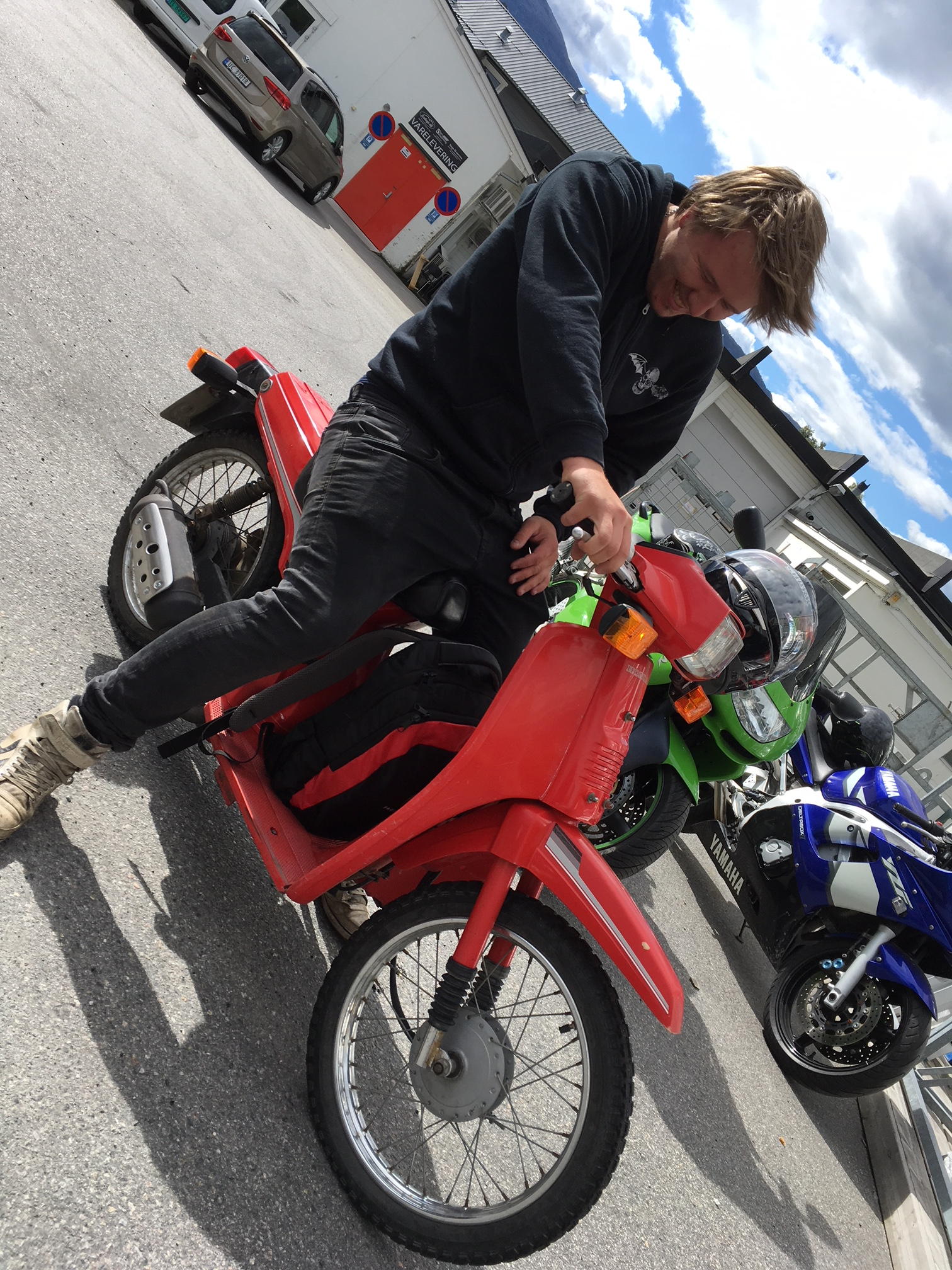 Lineup.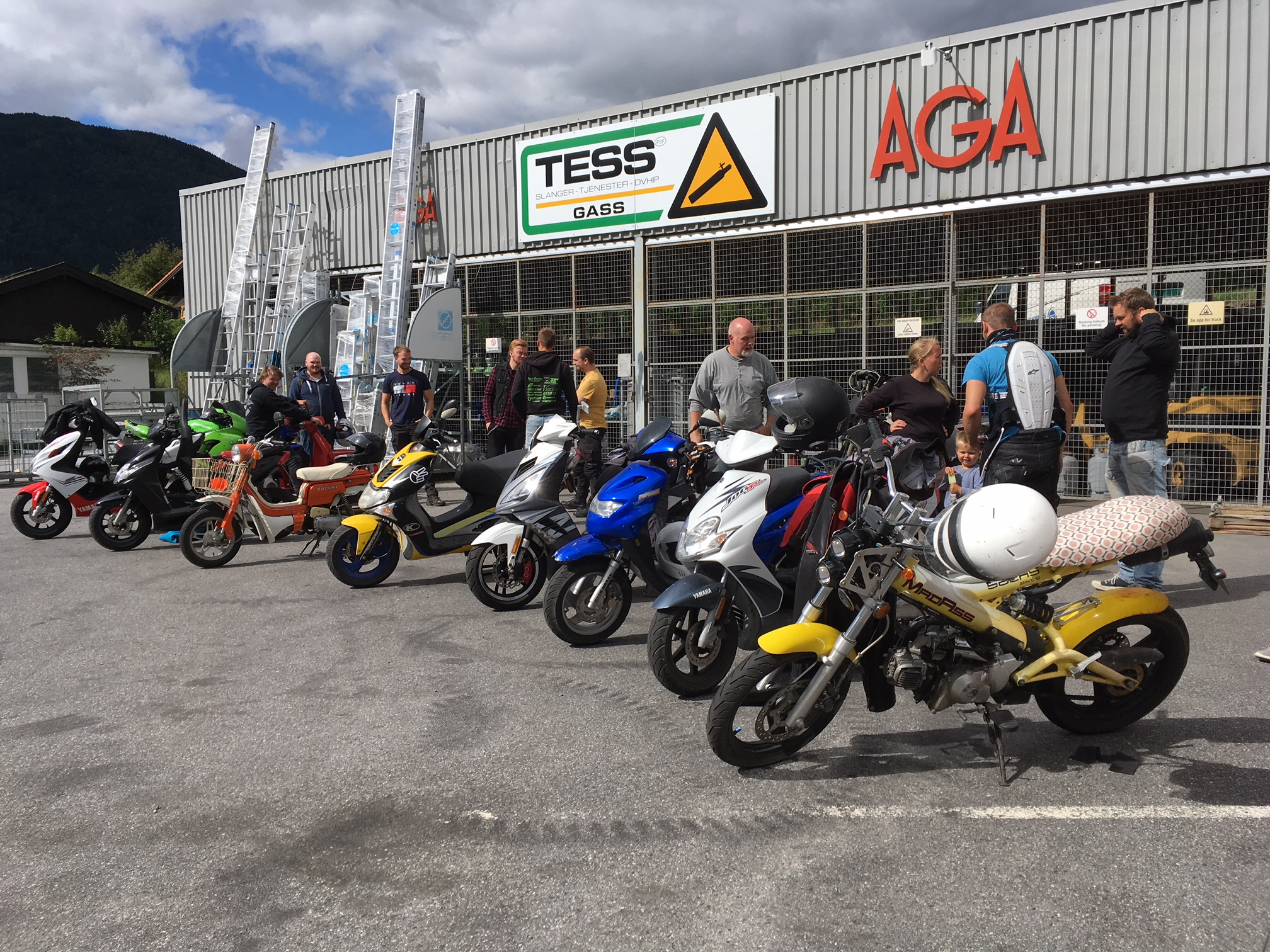 Kenneth's Sachs Madass. Awesome!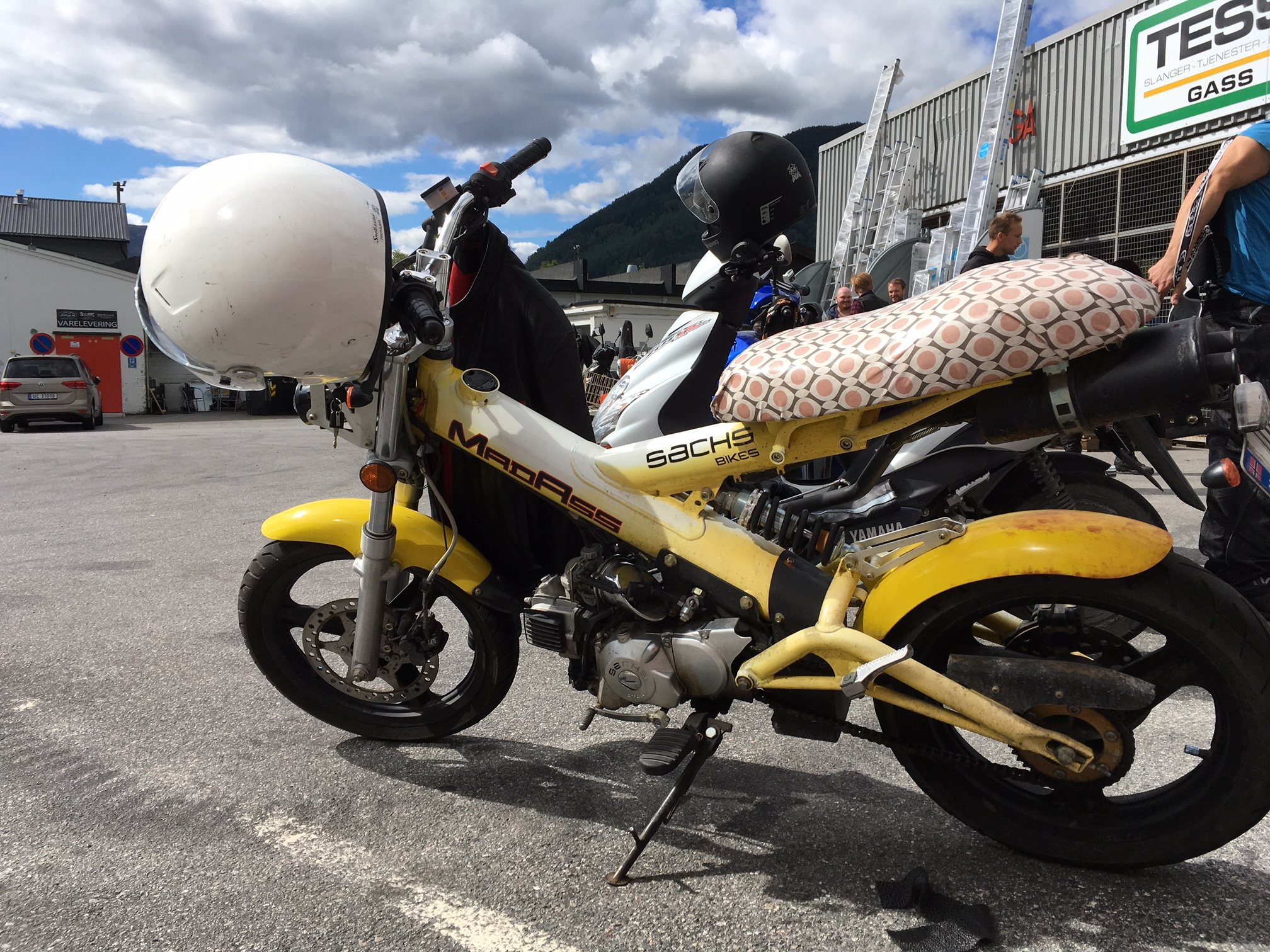 ---
Første havari skjedde etter kun 5 km. Pelle's Yamaha Jog R sleit med variator- og tenningsproblem, og vart forlatt i dei bratte Årøysvingane. Dermed fekk Brynjar's Kawasaki Ninja ein passasjer, då Stine lot havaristen Pelle få låne hennar CPI Popcorn. //
The first breakdown happened after just 5 km. Pelle's Yamaha Jog R har variator- and timing-issues, and was left in the steep turns at Årøy. Thus Brynjar's Kawasaki Ninja got Stine as a passanger, as she lent her CPI Popcorn to Pelle.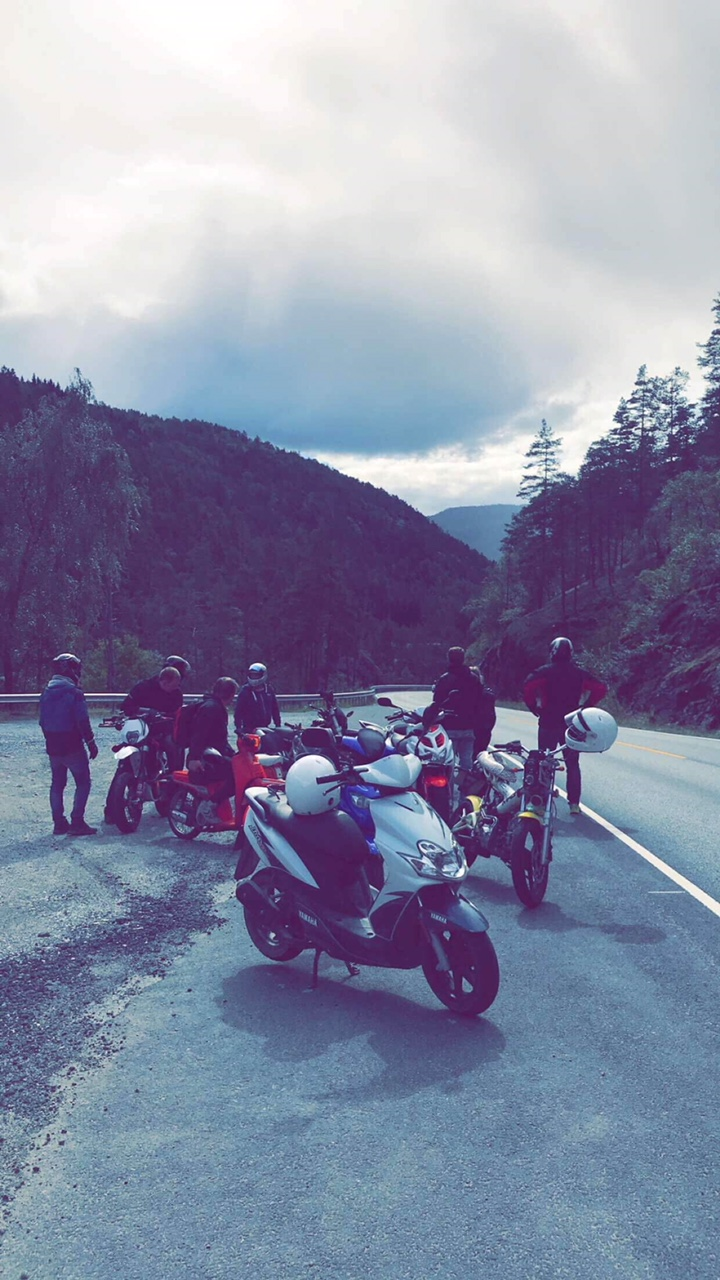 ---
Første stopp ved YX på Hestnes/Hafslo. 14 km tok 40 minutt grunna havariet. //
First stop at the YX gas station at Hestnes/Hafslo. The first 14 km took 40 minutes, because the breakdown.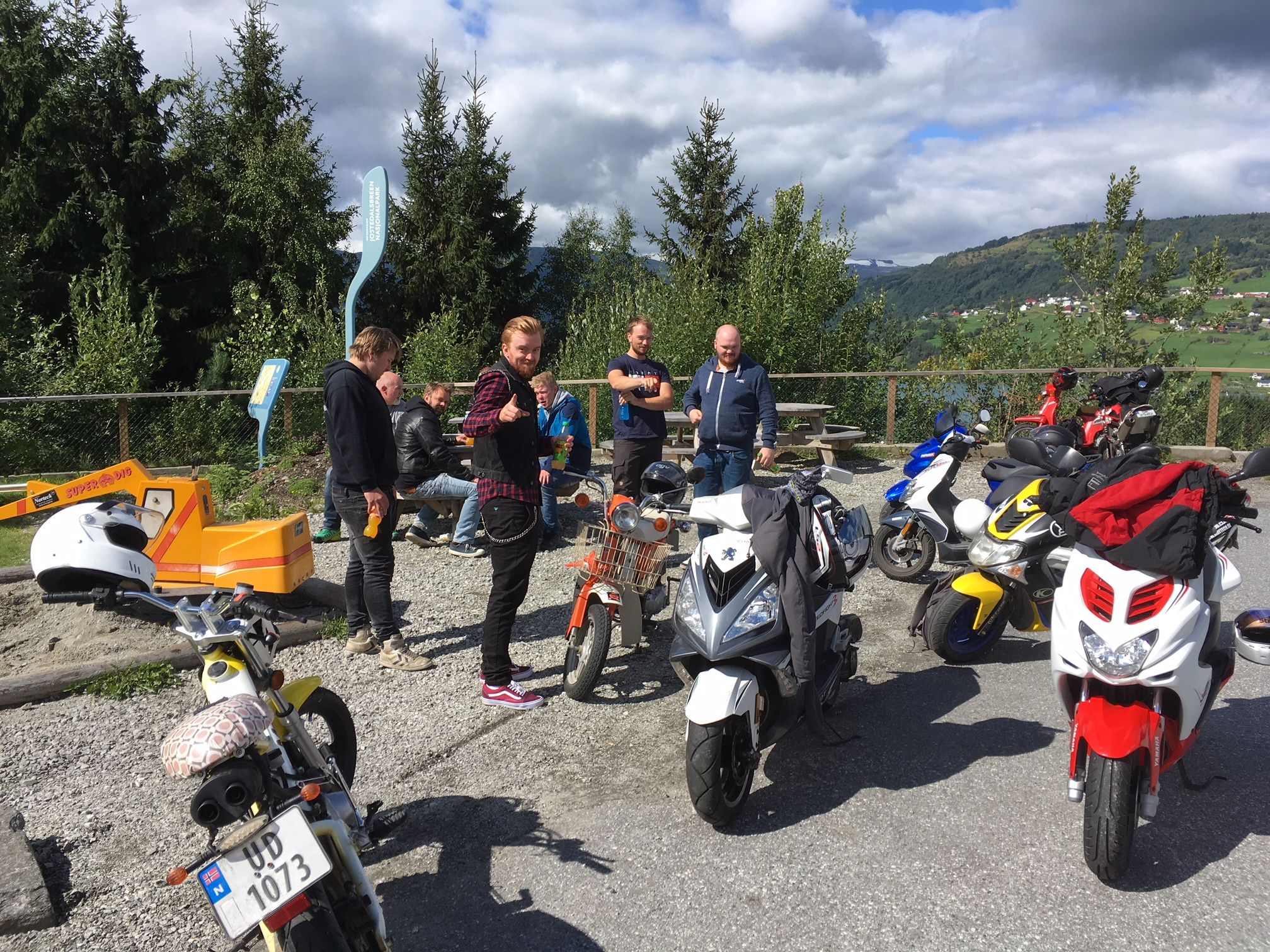 Suzuki FZ50 <3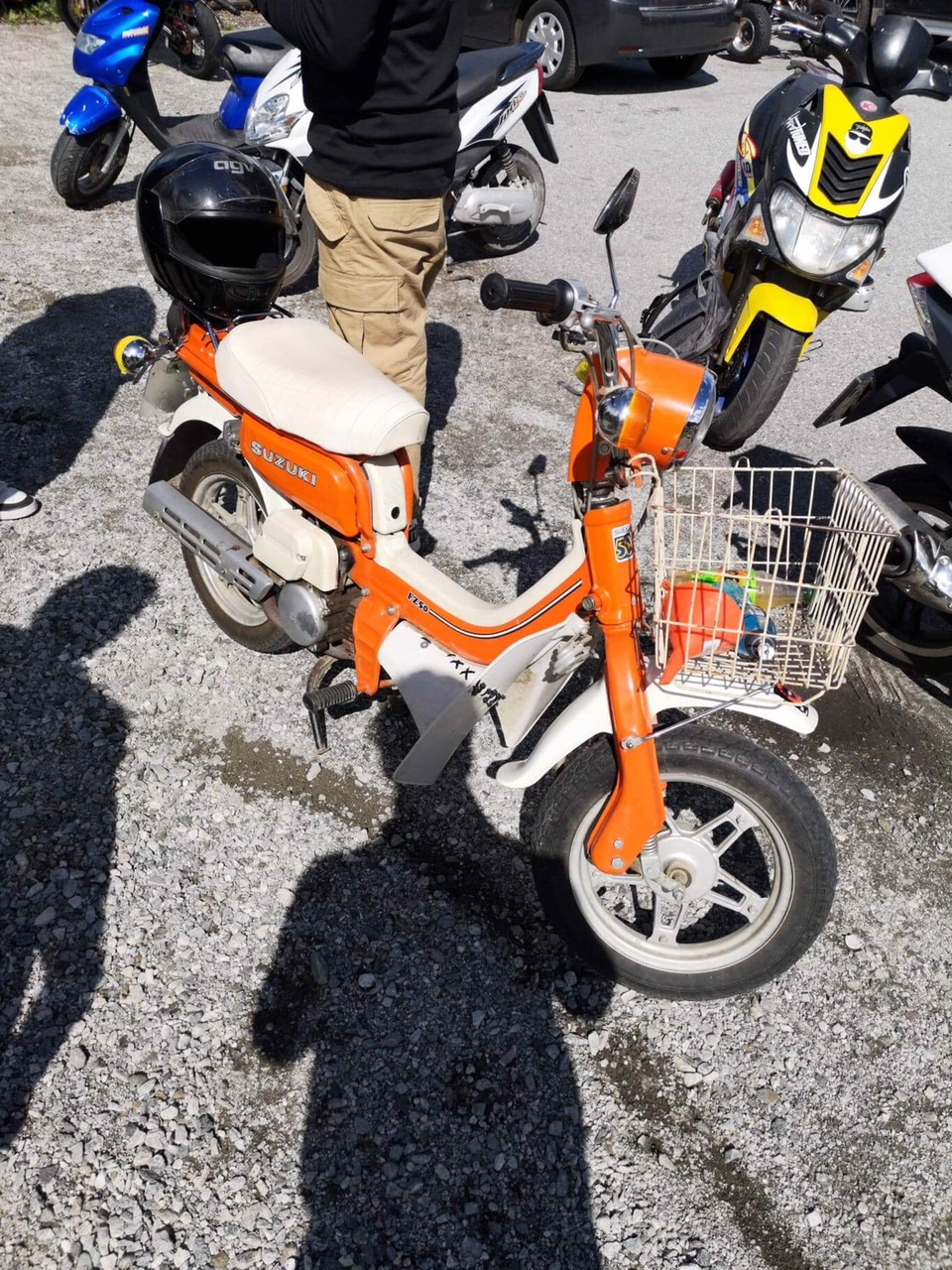 ---
Vegen inn til Veitastrond er flat og idyllisk, og vert omtalt som ein av dei finaste sykkelvegane på vestlandet/i verda. Enda betre er det då med moped. Vi klarte å køyre utom 3 av 5 tunellar. For jammen er det mørkt i dei svare hola. //
The road to Veitastrond is flat and scenic. Beautiful mountains and a lake with green water melted from the glacier. The road is mentioned as one of the nicest roads for biking in the western part of Norway/best in the world(?) – and is then even better when on a moped.
Kort stopp for å nyte naturen. //
Short stop to enjoy the nature.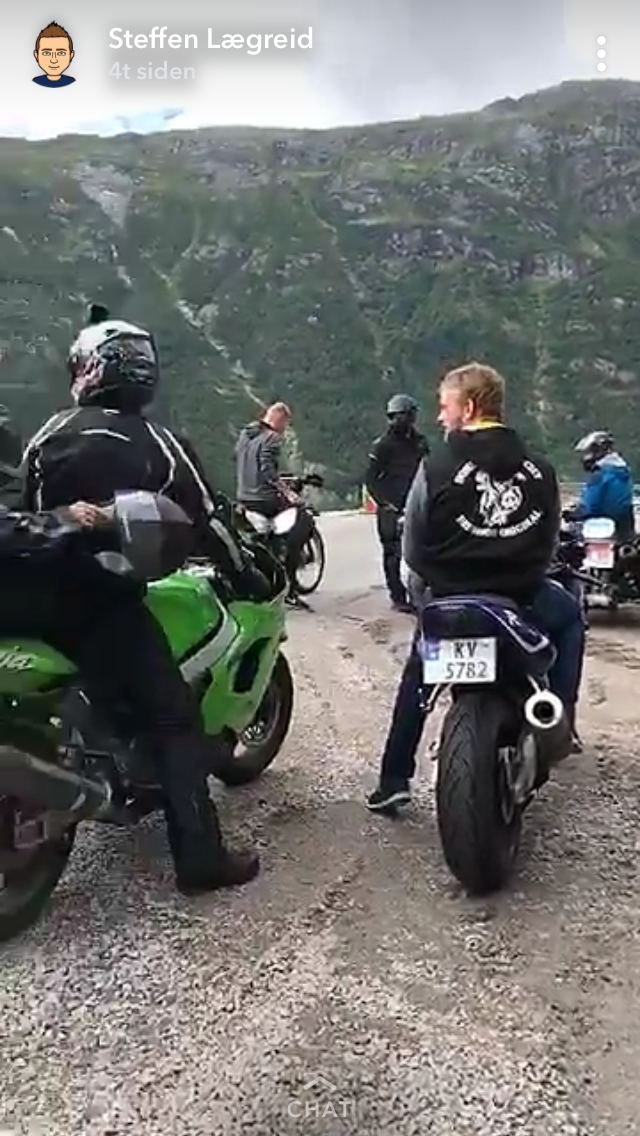 Stine kosar seg på Ninja'en. //
Stine enjoying a ride on the Ninja.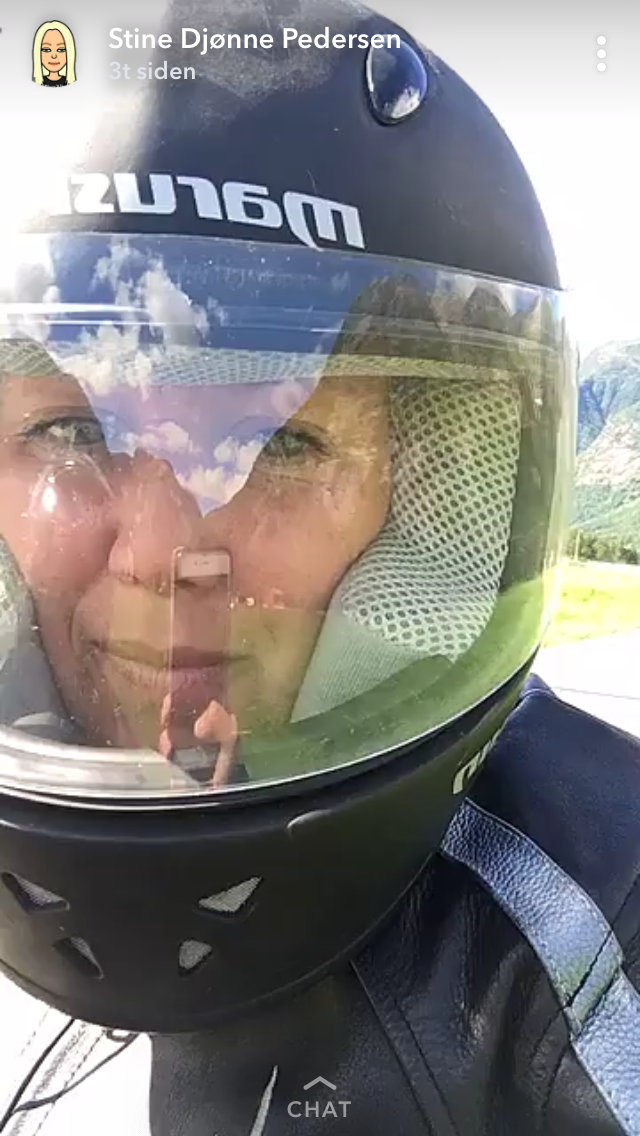 På veg.//
On our way.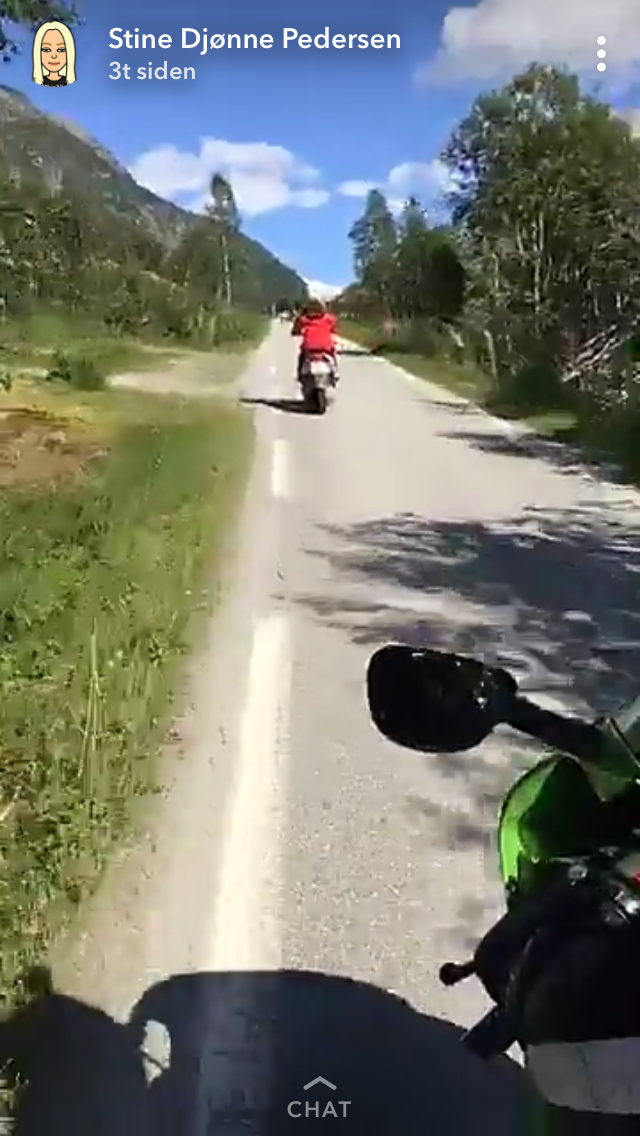 Framme! //
Arriving Veitastrond.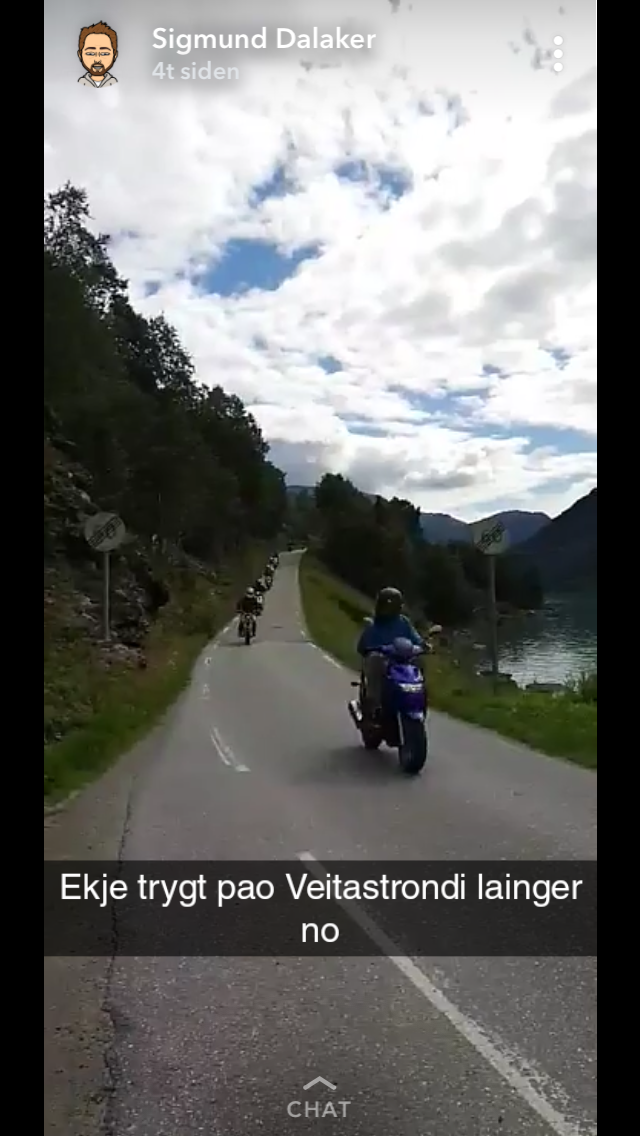 ---
Café Veitastrond serverar mykje heimelaga og kortreist mat. Kenneth er klar til å bestille rømmegraut. //
Café Veitastrond serves homemade and a lot of local food. Kenneth is in line to order traditional sour cream porridge.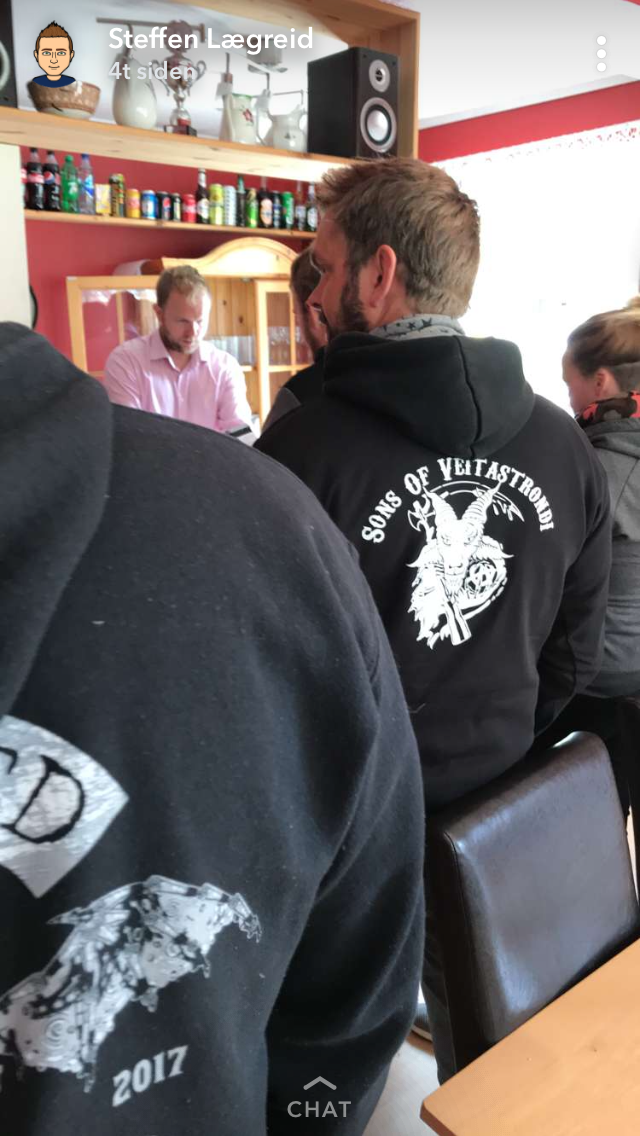 Ventar på i spenning på maten. //
Waiting for the food.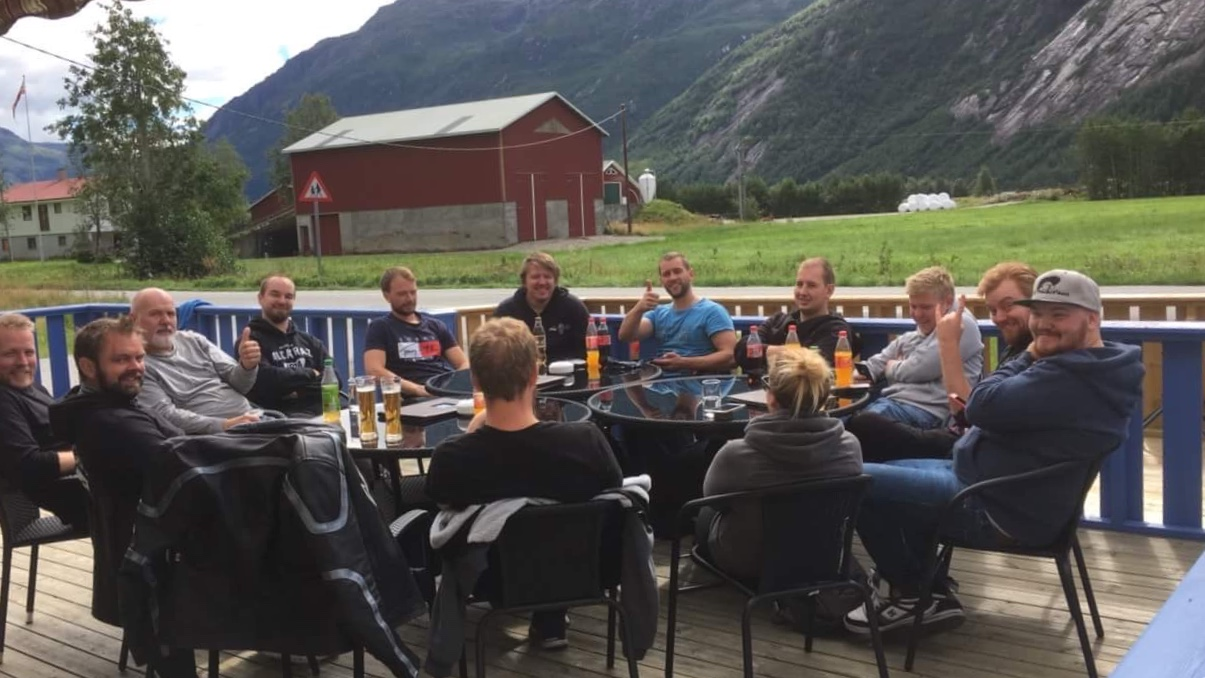 Anders, stappmett av "Bondeburger" er klar for litt cruising før heimturen. //
Anders, almost too full after eating a "Farmer's burger", is ready for some cruising before the return trip.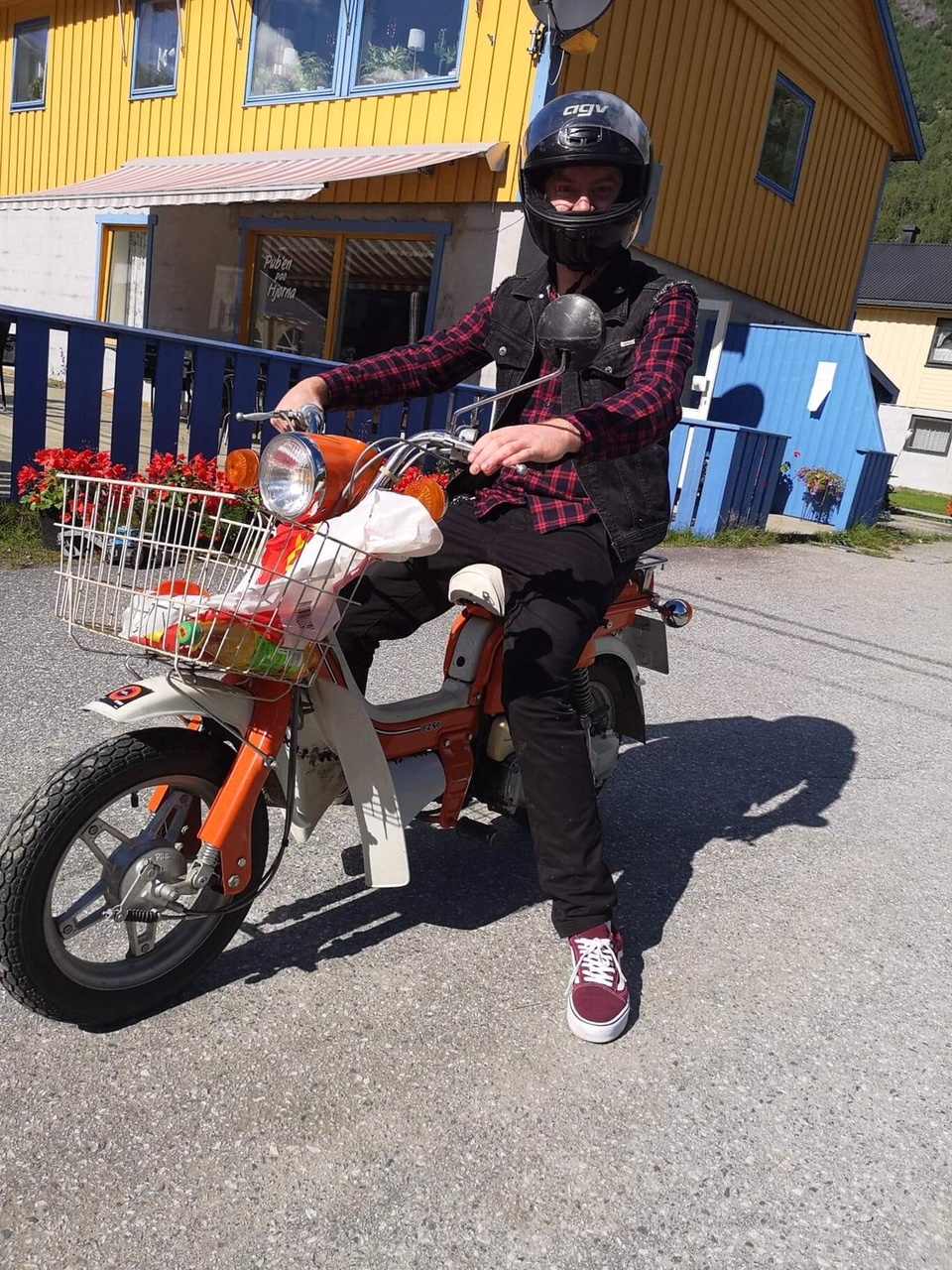 ---
Litt påfyll av bensin må til. Fantastiske Bjarte køyrde sin Mini Cooper S med bensinkanner og olje. Takk Bjarte! //
Filling up some petrol. Our hero, Bjarte, was kind enough to transport some cans of petrol and oil, in his Mini Cooper S. Thanks Bjarte! (There are no gas stations in Veitastrond).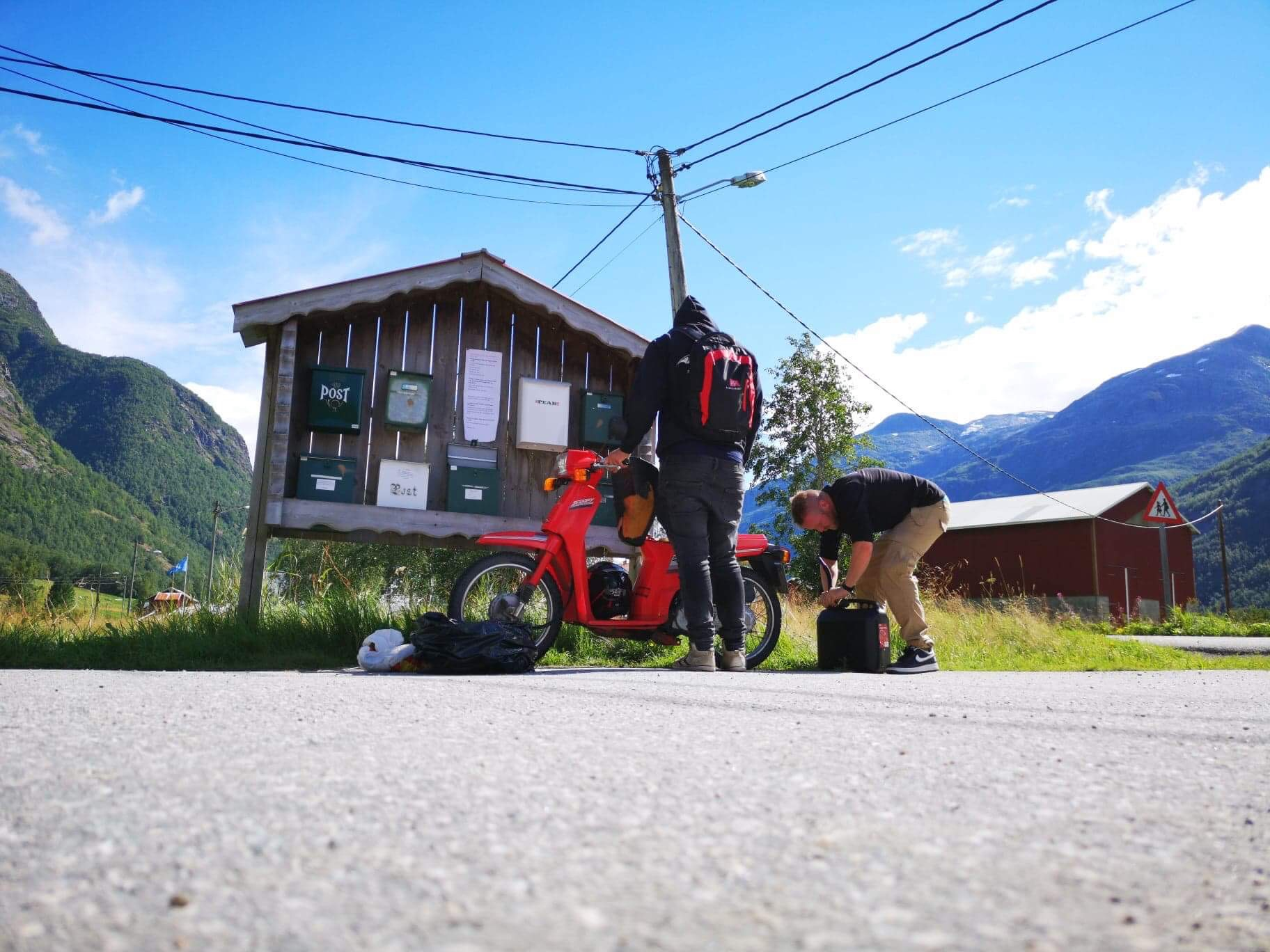 Brede og Kenneth måtte prøve beista offroad. //
Brede and Kenneth going offroad.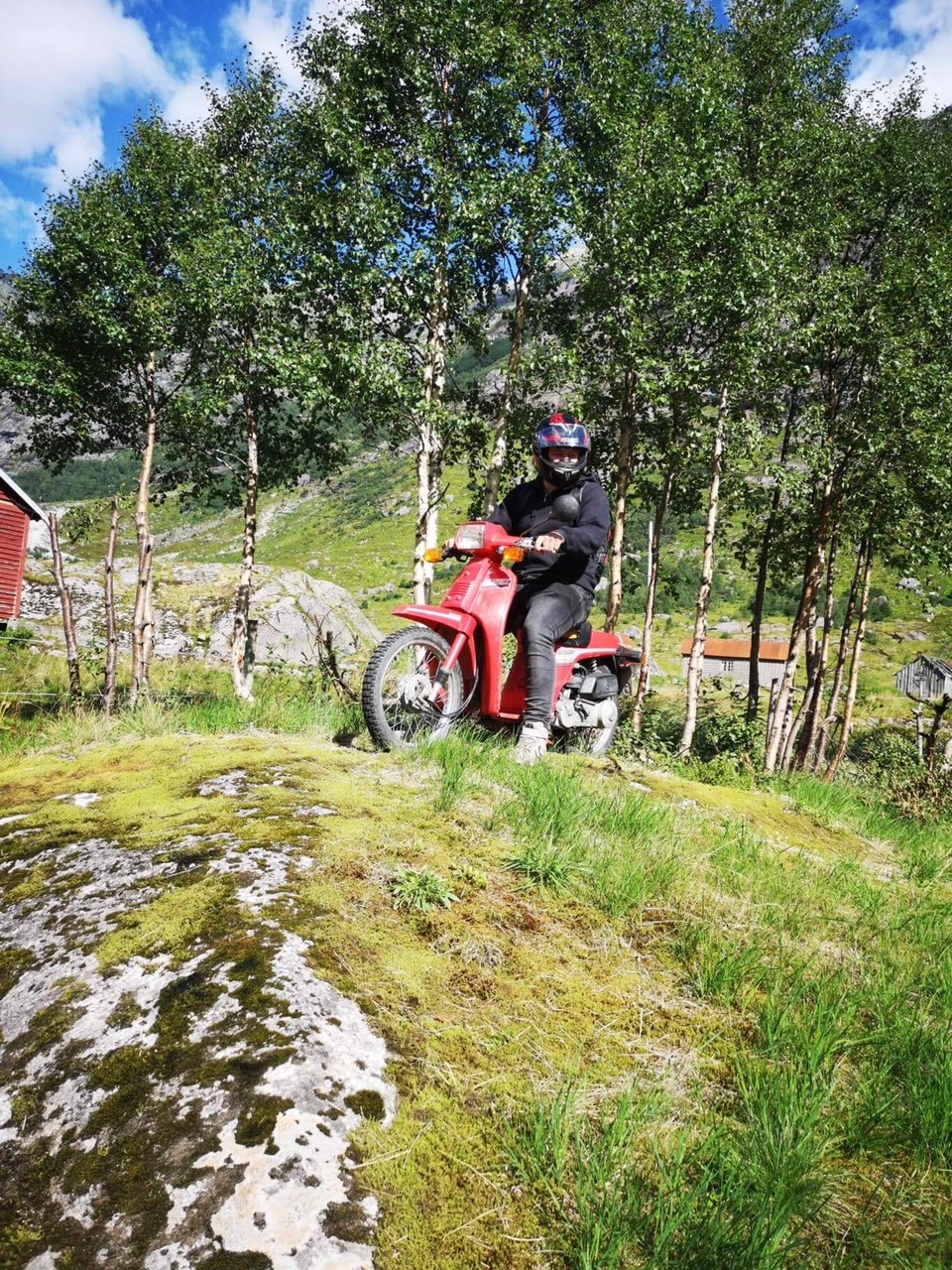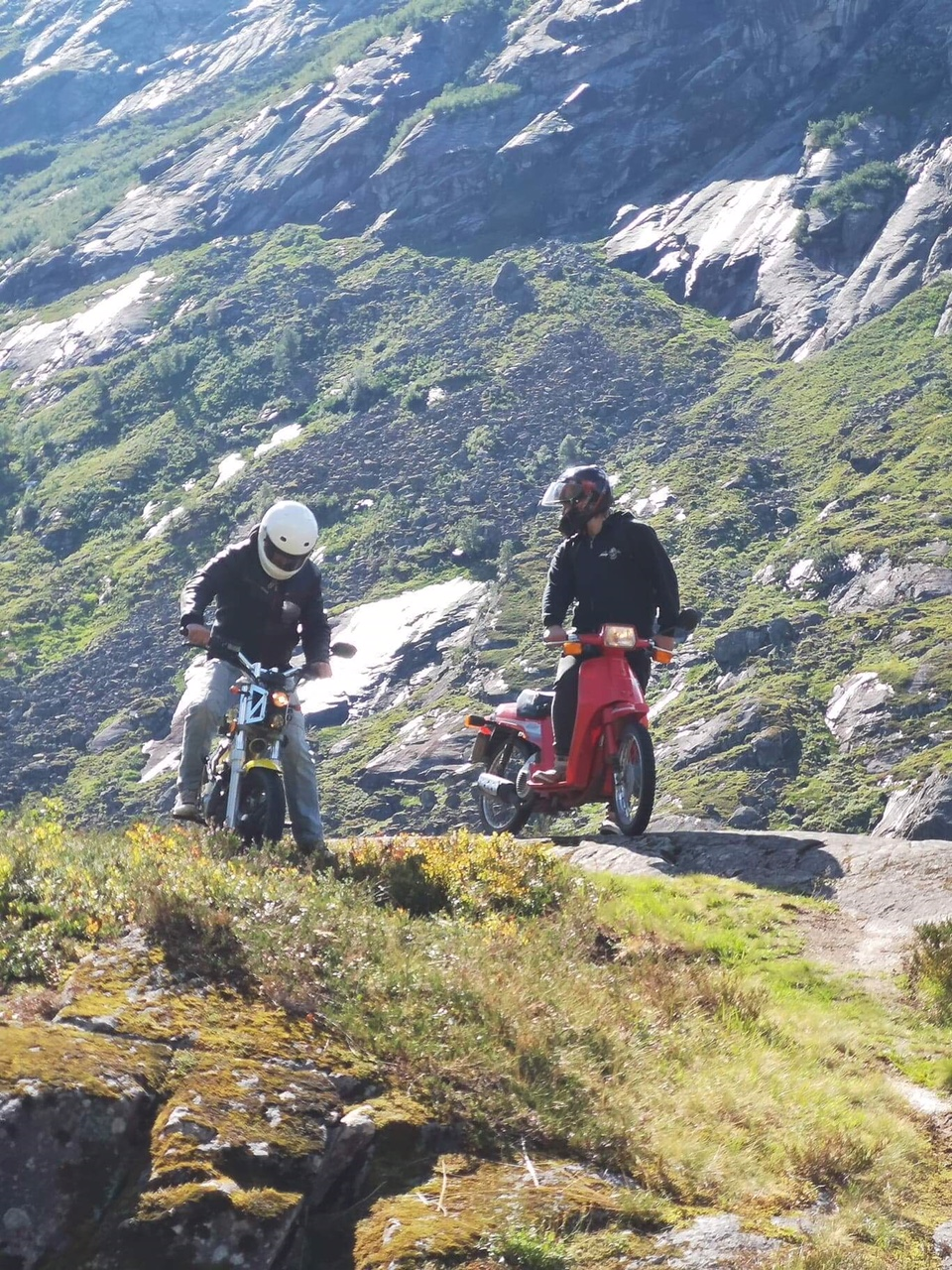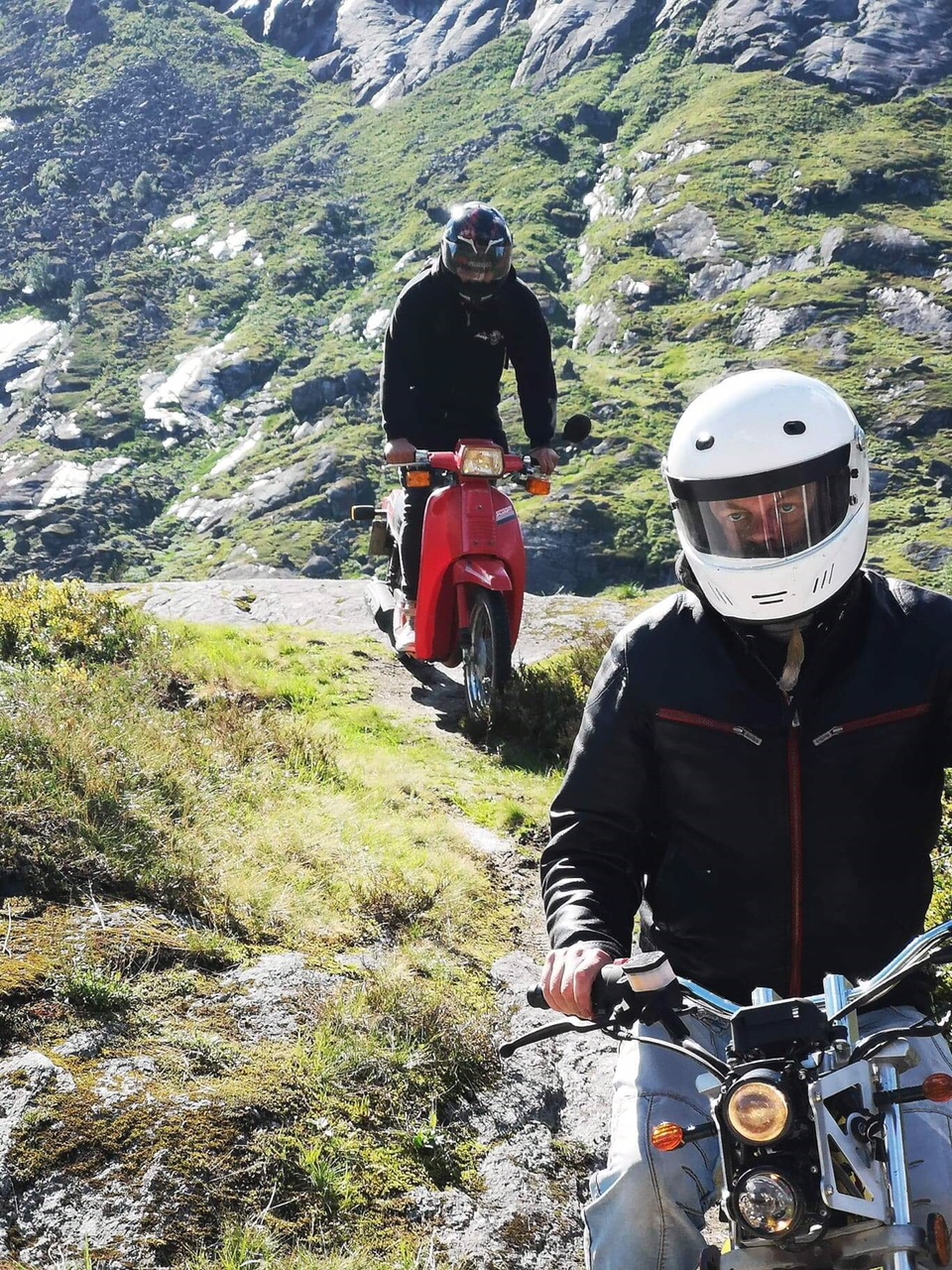 ---
Klar for retur. Men først litt dragrace. Noko som er rasande festleg sidan mopedane går så sakte. //
Ready for the return to Sogndal. But first: dragrace. Which is very funny since the mopeds are so slow.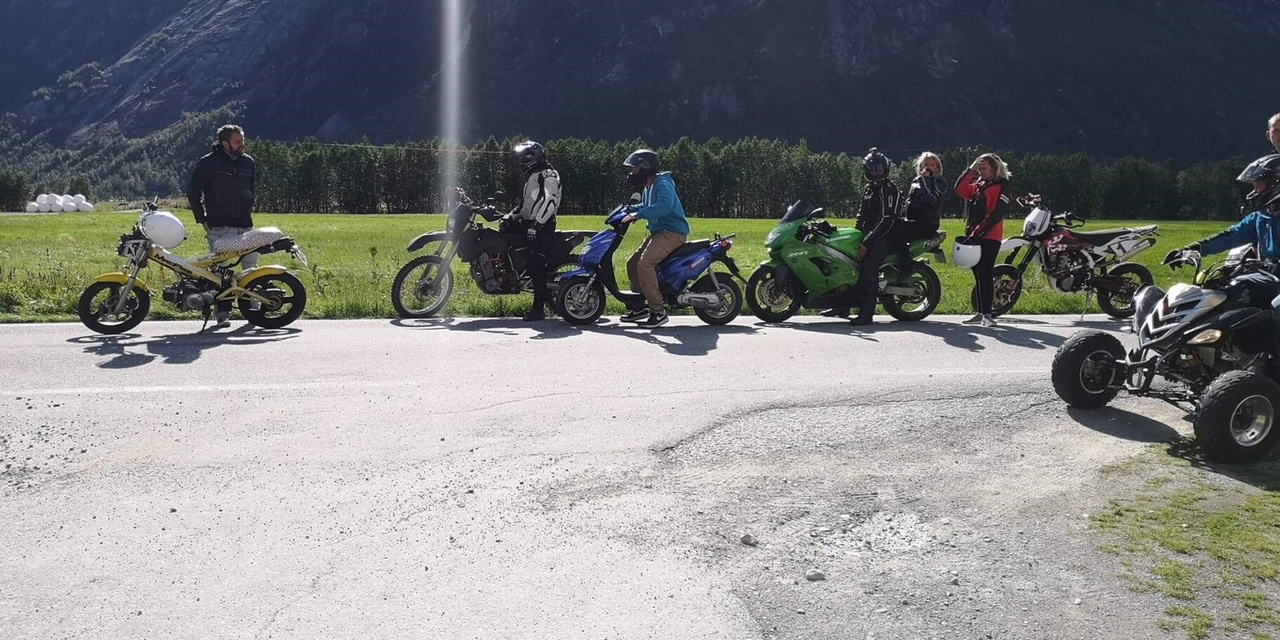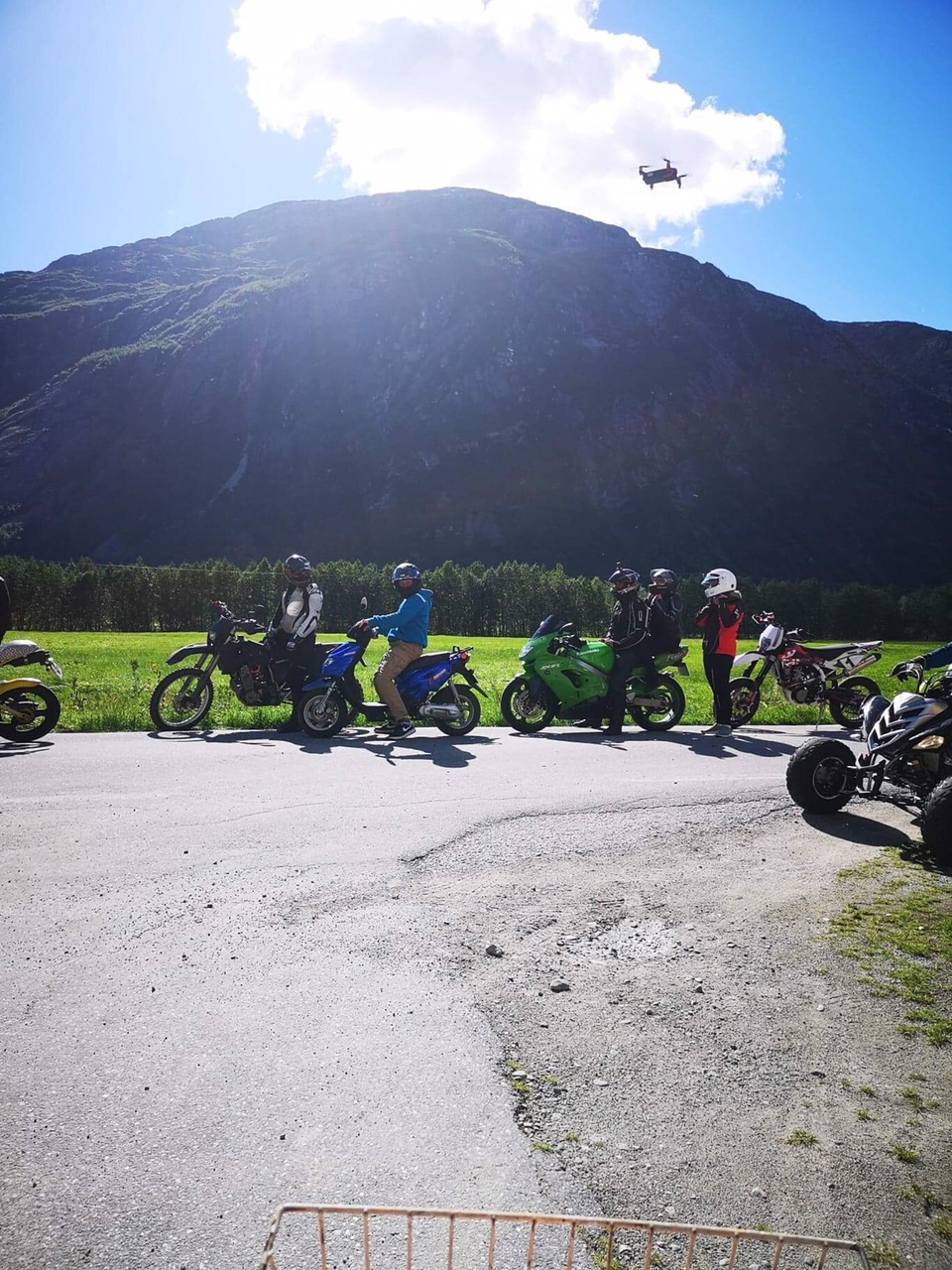 ---
Men overivrig satsing førte til enda eit havari. Kjeda på Madass'en hoppa av og knuste ein sensor. //
But alas, eager participants led to a dragrace breakdown. The Madass' chain jumped off track and broke a sensor.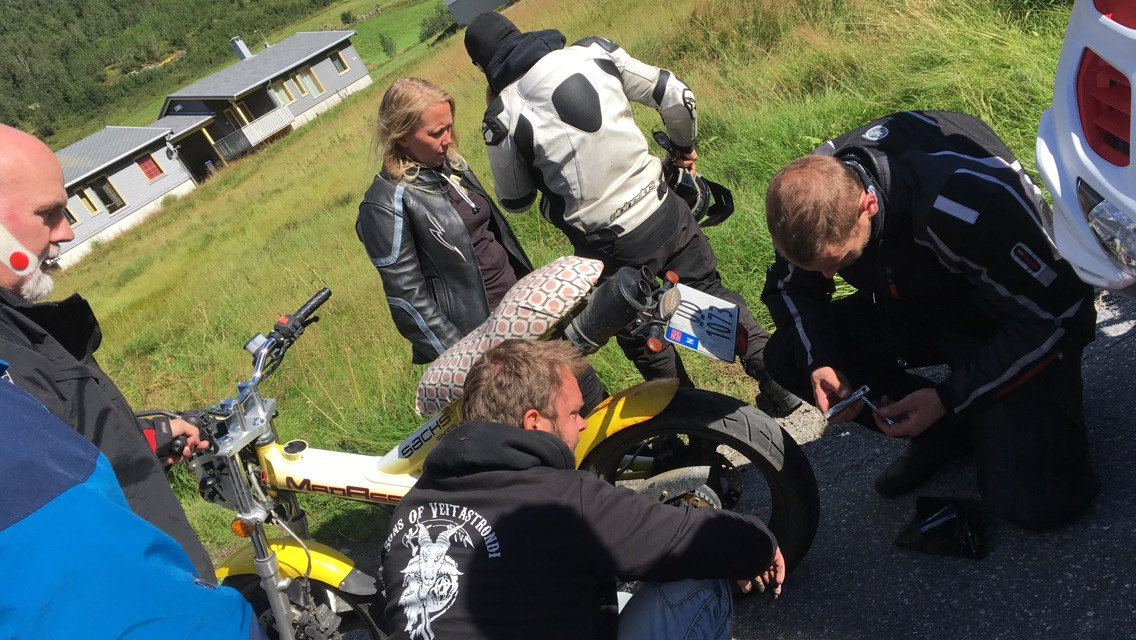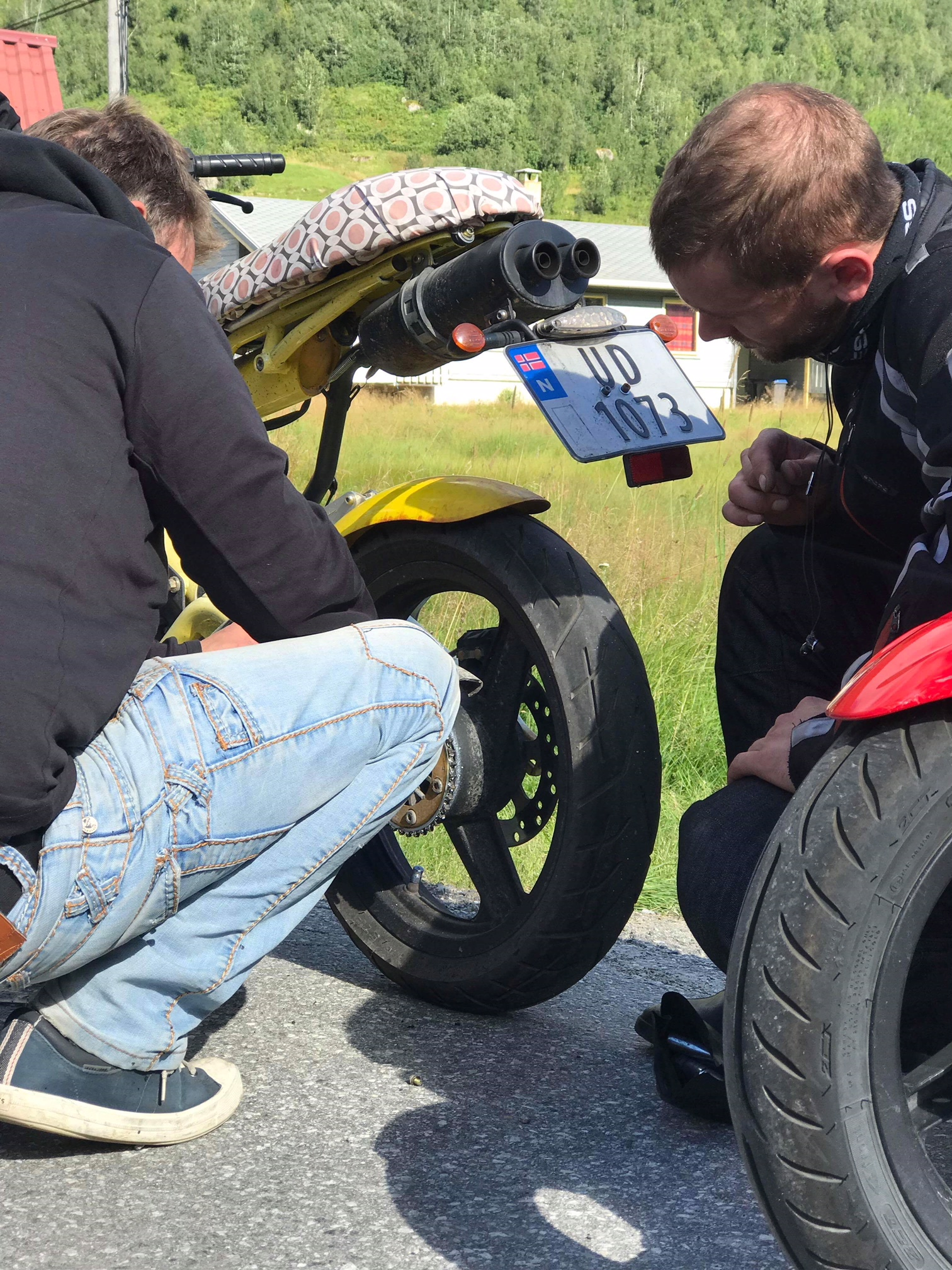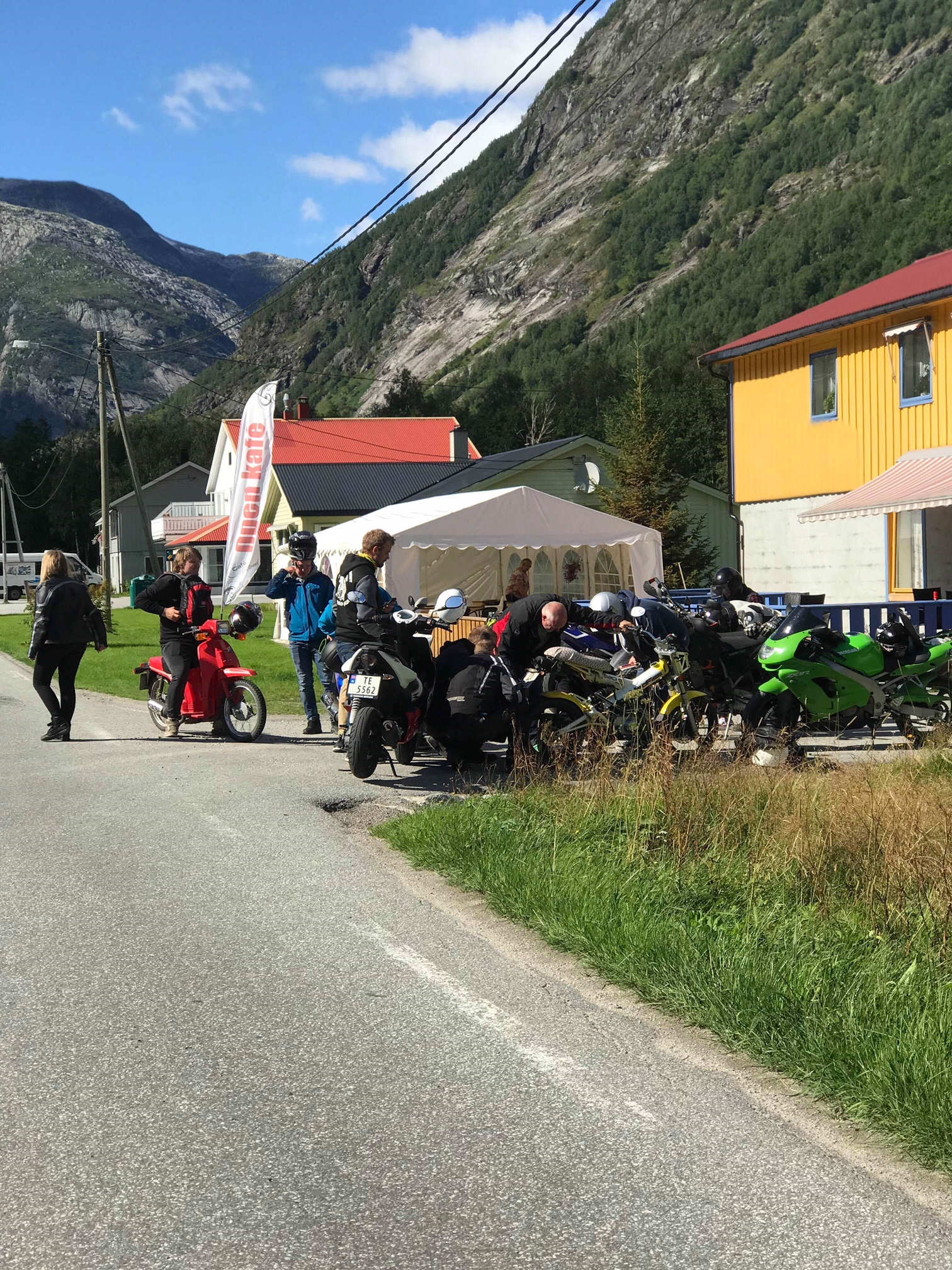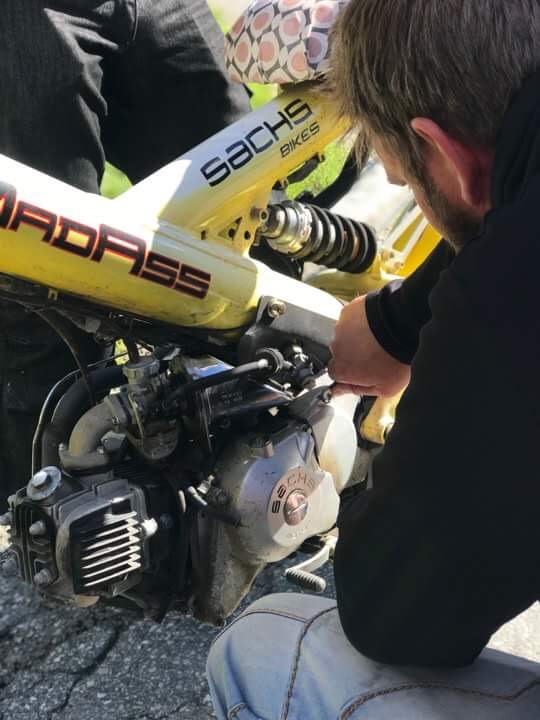 Ferdig snart? //
Finished soon?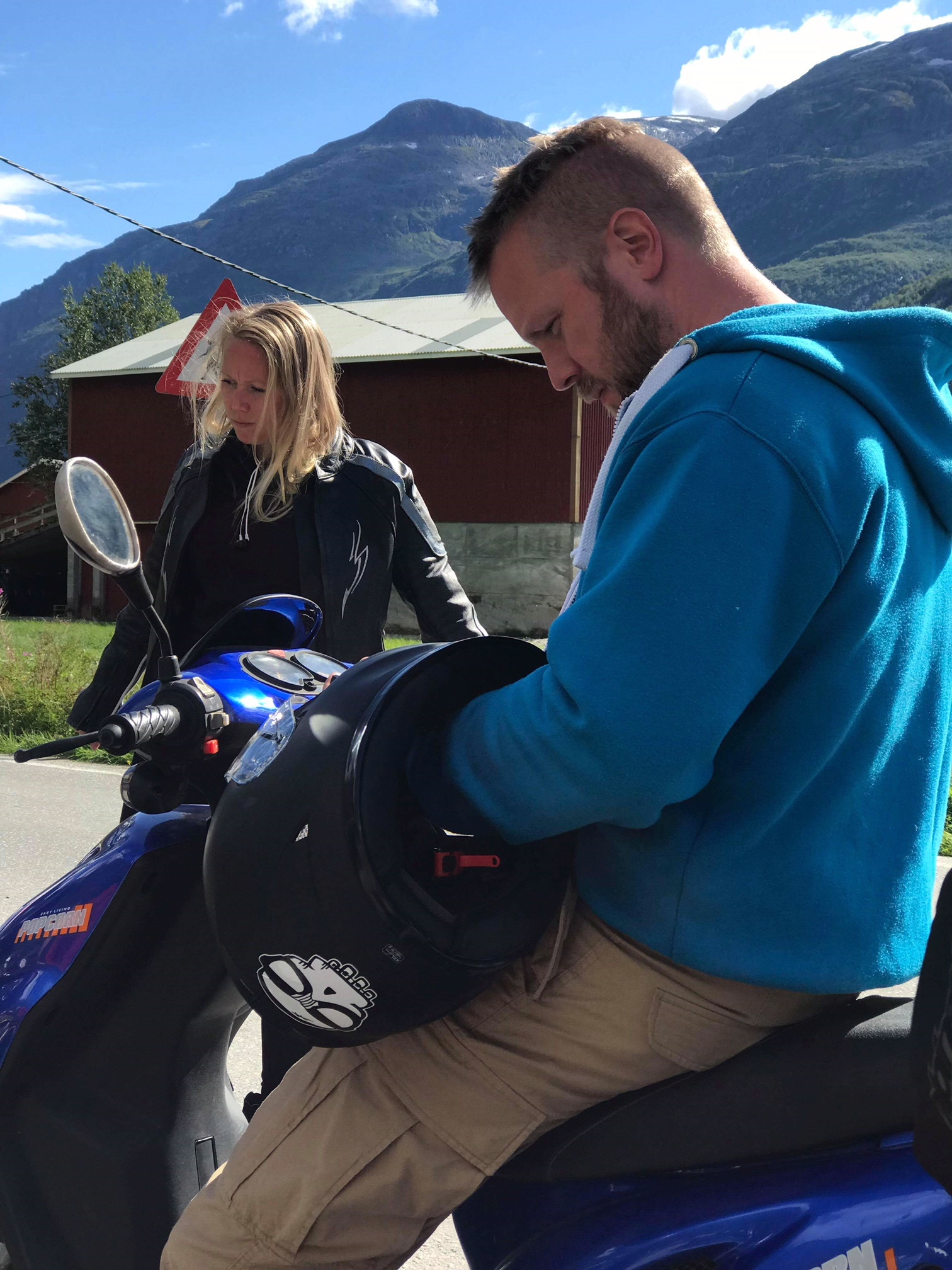 Lokale heltar helsar på MC-banden. //
Local heroes come by to say hello to the bikergang.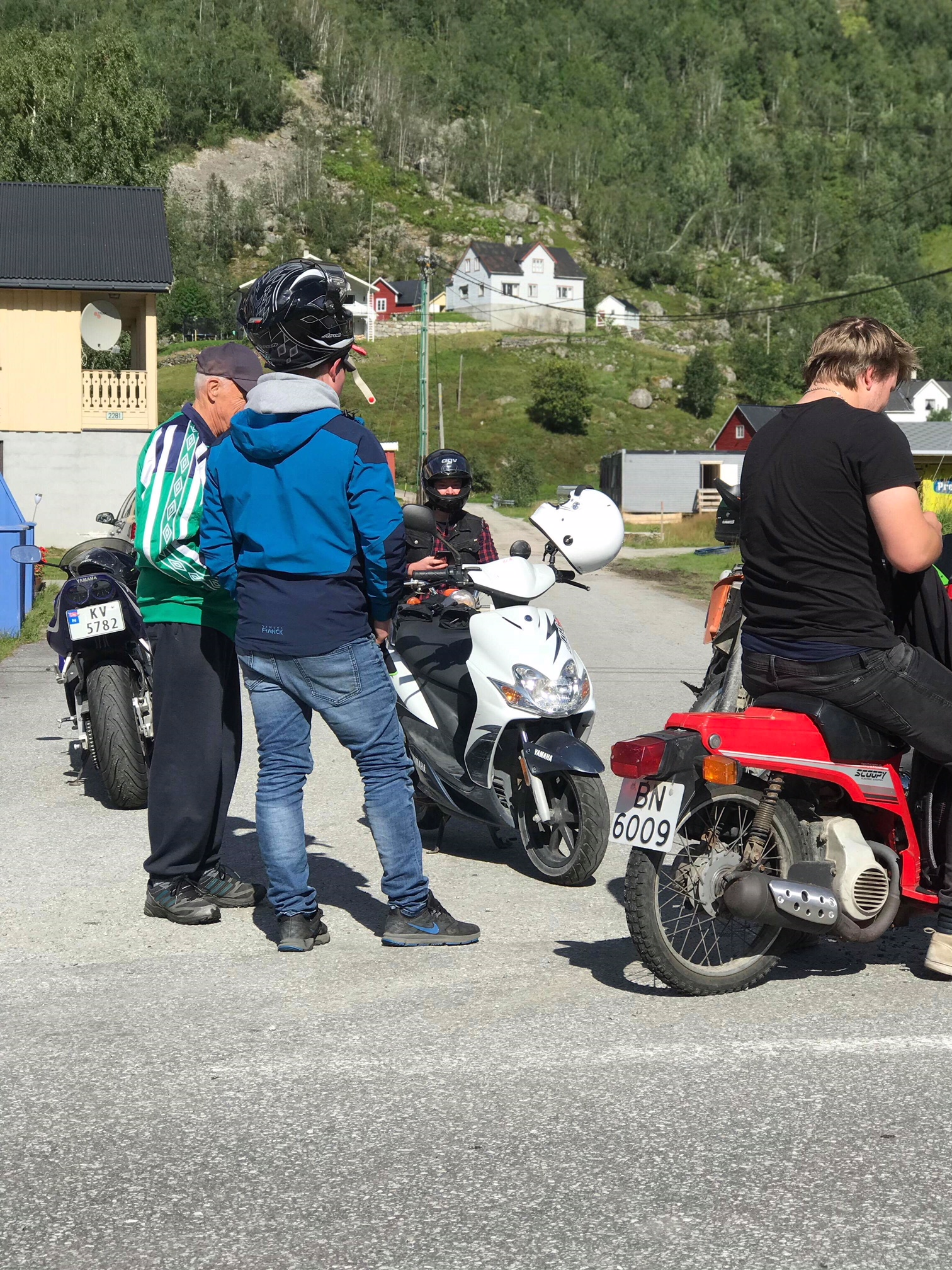 Madass'en vart til slutt ståande igjen, og Sigmund fekk ein passasjer på Yamaha R6'en sin. //
The Madass had to stay behind, and Sigmund got a passanger on his Yamaha R6.
---
Tilbake på YX. //
Back at YX.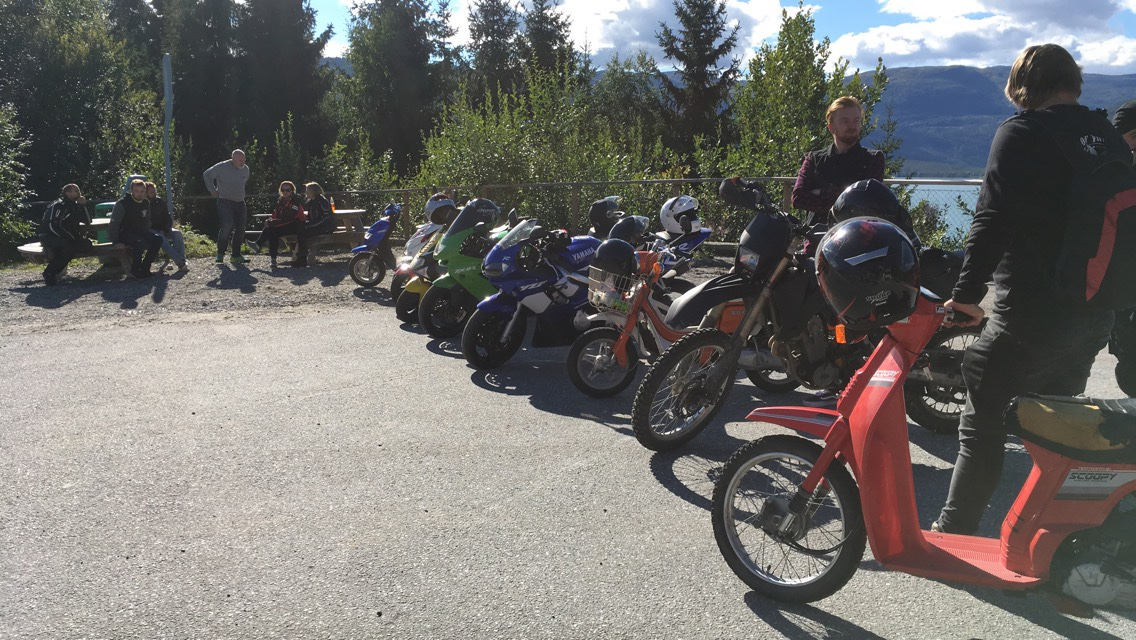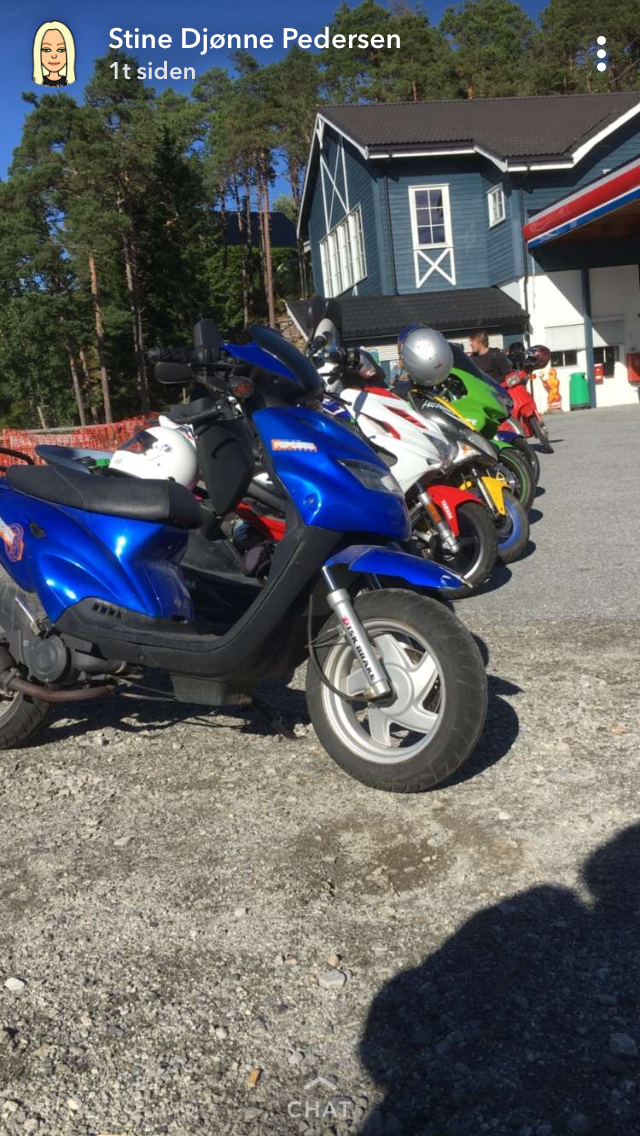 Gjengen //
The gang.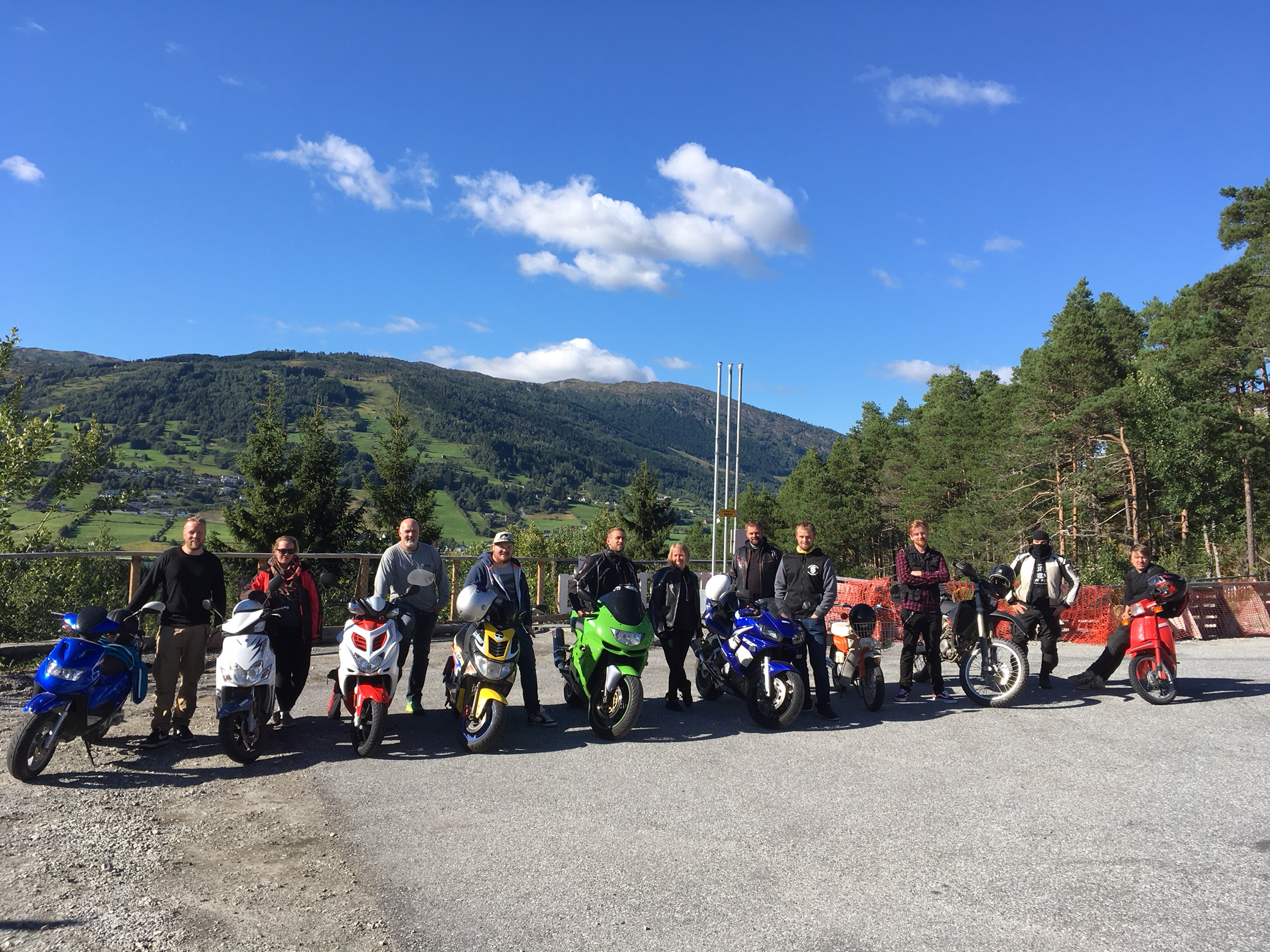 ---
Kvamsviki, nesten heime att. //
Kvamsviki, almost back in Sogndal.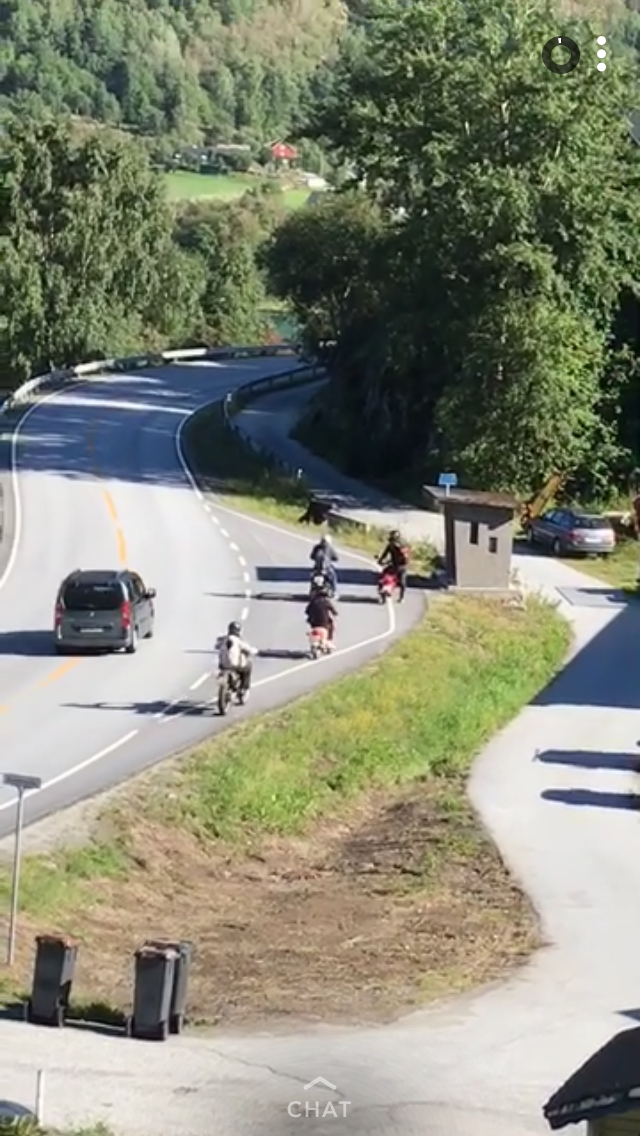 Takk for turen! //
Thanks for a great trip!